Collectif Foulles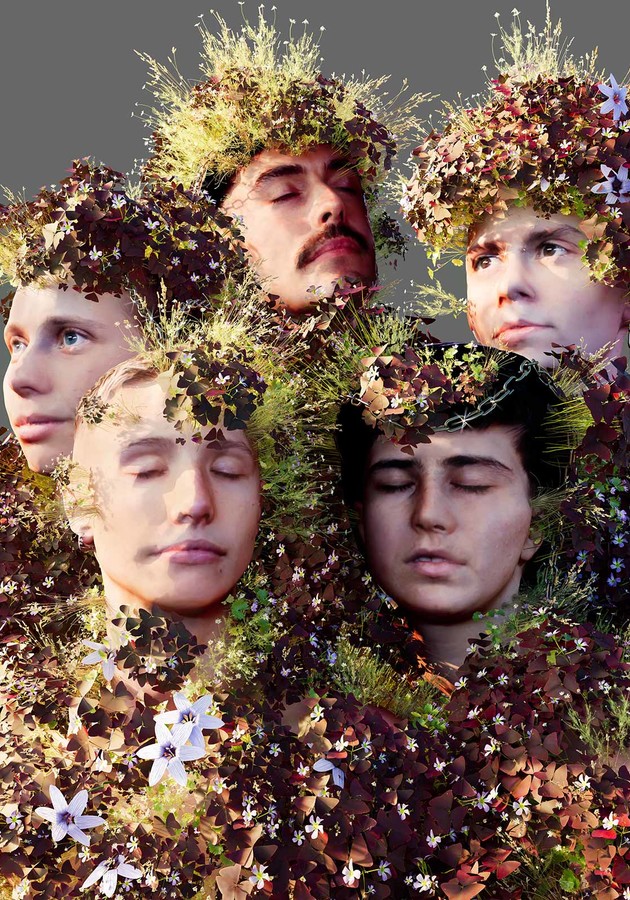 *There were affinities, friendships, jokes, an encounter. The urge to dance together, to share tunes, images and texts, to pass on these bags full of things, to a crowd of people.
This was followed by a great quest on how to reappropriate time and a culture that can dominate us as well as move us. They collect objects and then investigate them through collage. The subjects can be the gargantuan feasts of the Middle Ages, opera, breakdance battles, their voices. They rearrange them, pay tribute, make them listen to each other. Everything is merged and layered into a package.
It is a very precise and highly respectful handling, but also a celebratory and generous one. It is the desire to move away from history lessons, to reopen the relationship between present and past, to revive and feel the layers of time.
To do it together, and to defend this postulate. To be able to trust one another, to mingle, to separate ourselves from others and from the idea of ownership. To weave threads of discussion, create tension, maintain the complexity. To cross time with the enthusiasm of a battalion.*
Collectif Foulles is the meeting of five dancers and friends who play with the homonyms of their name, the character of the fool, and a lot of energy and practices. Their first creation, A prayer before, a diploma work at La Manufacture later performed at Tanz im Olten and at the Grange -UNIL, marked the beginning of a several years of research around the Middle Ages. With the desire to shake up the representation of these dark times, which are also those of buffoonery and festivity, Foulles unearths individual stories, changes the narratives, distorts history and time, and delves into the queer cracks of the Middle Ages. Their latest piece, Medieval Crack, was a Premio finalist and premiered at the Belluard Festival in collaboration with historian Clovis Maillet. Today Foulles closes the medieval chapter to question the relationship between beliefs and knowledge, and to explore the terrain of childhood and play. They might soon find themselves in a new setting, a western, a silent movie, or among dolphins in Sardinia.
Auguste de Boursetty studied visual arts at the Hear (Hautes Ecole des Arts du Rhin) and developed a practice in video, costume and performance, before joining the Bachelor in contemporary dance at La Manufacture in Lausanne. Auguste also collaborates with Nicole Seiler, Vidal Bini, Alix Eynaudi, Natasza Gerlach and Catol Teixeira.
Collin Cabanis trained in cultural management at the University of Lyon 3 while practicing breakdance. He then joined the Bachelor in contemporary dance at La Manufacture, then participated in Wouah! and Liquid Families with Nicole Seiler, performed the solo Personne by Thomas Hauert and joined the Ouinch Ouinch collective with the piece Happy Hype.
Délia Krayenbühl studied theatre at the conservatory in Fribourg, then trained at the Tanzfabrik in Berlin, before completing her Bachelor's degree in contemporary dance at La Manufacture. She also followed a short training in choreography at the Companhia Instavel in Porto. She dances with the Da Motus! company, Eugénie Rebetez, Nicole Seiler, Rémy Héritier, Louise Bentkowski, Sahar Suliman and Sarah Eltschinger.
Emma Saba studied classical music at the G.B. Martini Conservatory in Bologna, then joined the Bachelor in Contemporary Dance at La Manufacture. She worked in Italy with the Collettivo Cinetico/Francesca Pennini and Gianmaria Borzillo and in Switzerland with Marie Jeger and Cosima Grand. Her solo la fine di tutte le cose / l'inizio di tutte le altre is co-produced by Emergentia 2022.
Fabio Zoppelli taught handicrafts in primary schools and worked with a children's circus before joining the Bachelor's programme in contemporary dance at La Manufacture. He performs for Mathilde Monnier, Cie ADN Dialect, Mischa Käser and Christophe Burgess, and collaborates with Clément Grin [AA 20-21] for The world is still moving at the Antigel festival. He also participates in the Grimaces project by Clara Delorme and Baptiste Cazaux. Since 2019, he has also been developing a practice of fire manipulation.